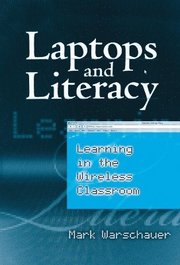 Tänkte bara snabbt tipsa om Laptops and Literacy – Learning in the Wireless Classroom. Alla som har hört mig prata vet att jag kritiserar populistisk och romantiserande litteratur om datorer i klassrummet. Vad är då alternativet, frågar vän av ordning? Författaren Mark Warschauer utgör helt klart ett sådant alternativ. Mark är en av de större forskarna inom en-till-en området vågar jag påstå, och att läsa hans material är alltid en fröjd, såväl till form som till innehåll och skärpa.
Boken Laptops and Literacy utgör inget undantag. Så här beskriver Bokus verket:
The number of laptop computers in U.S. schools is growing at a rapid rate. This timely book analyzes the types of learning that take place in one-to-one wireless classrooms where all students use laptop computers. With a particular focus on students' literacy practices, the text covers reading and writing, information use, and multimedia development. Featuring critical analysis and practical examples, this book is essential reading for everyone concerned with making effective use of new technology to meet the educational needs of culturally and linguistically diverse students. This book: looks at the literacy challenges of the 21st century and examines whether and how laptop use contributes to meeting them; draws on extensive research in schools that have implemented one-to-one computing and provides details from those that are successfully using technology to enhance learning; uses rich examples from urban, suburban, and rural areas, with children in regular classrooms as well as in ESL, gifted, and special education programs; and, provides details from schools that are successfully using technology to enhance learning.
Boken är visserligen från 2006, vilket betyder gammalt i en värld som snurrar allt fortare. Efter att ha läst färskare forskning, måste jag dock säga att den genomgång Warschauer gör i boken håller alltjämt. Kombinationen av kritisk analys och praktiska exempel gör att de allra flesta som intresserar sig för området får ut mycket av att läsa den. Jag rekommenderar den!